Karla Oettler's Wacky Birthday Weekend
Karla Oettler from Absolute Collection approached us to design all of the stationery for her Birthday on the 8th of October 2012 -The weekend event was held at De Wetshof Estate in Robertson, and guests booked their accommodation months in advance!
Our designs included a Digital save the Date that emulated a Visa, after which a digital  Travel Pass was sent out after guests replied to the Save the Date, of which guests were divided into several countries, thereby receiving a different country pass. Each guest would have to dress up as their respective country.We built a website with information for guests about what to expect, what to bring with for the weekend, an online form for guests to fill in about how they had met her, and an online gallery of this co-coordinator' s past parties.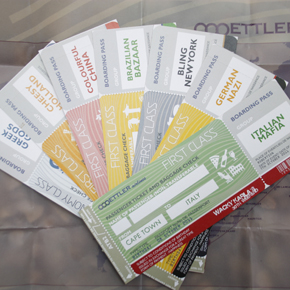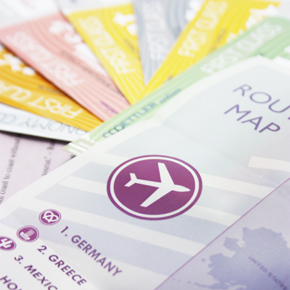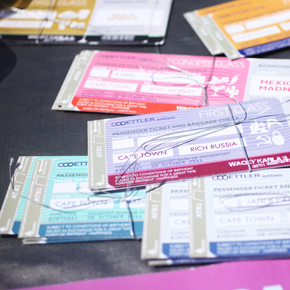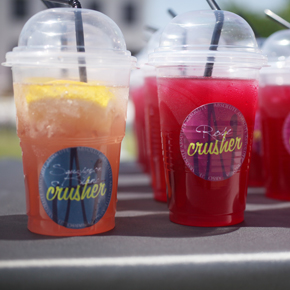 We designed a "Wacky Karla's Birthday Weekend" Logo, which we engraved on Wine glasses. These glasses contained an attached Menu Passport Pass, which had tear-off Food coupons, which was presented to guests on arrival – along with Mojito and Berry Iced Crushers for which we designed waterproof stickers. This Menu also contained a route flight plan to each station, as well as a welcome note translated in different languages. Each guest also received their tear-off travel ticket.The first station at arrival – The German Station, which had containers and signages indicating Beer and Sausages to start off with!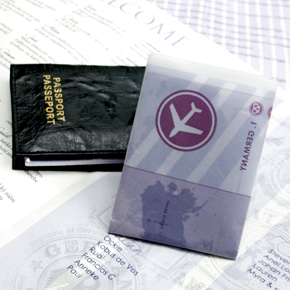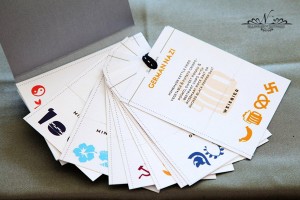 The Event was thus constructed by dividing the floor plan into different countries, an MC announcing the time of arrival at each country ( as one would experience at an airline terminal), and as guests move around to each country, they would be presented with different snack & drinks pertinent to that culture. This was indicated on the Menu passes with different icons, as well as what to expect at each stop.
Furthermore, Each station contained stickers on shot glasses, flags indicating the name of the snack, stickers on Noodle boxes & wonton cookies, tags with ribbons, Sheets for platters with design details, customized paper cones, printed tissue paper wraps, pizza box stickers – everything had a customized label!
We also designed custom Travel Safety Cards :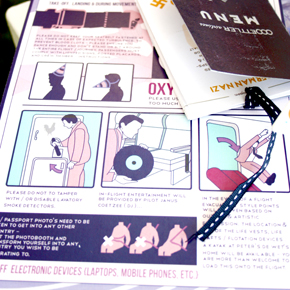 Other treats included Photoshopped magazine covers with imposed guest's faces – for our in-flight magazine entertainment. Mini plastic airplanes were customized for the cake & candy bar, signage was created for bags of "airline good" such as sleeping socks & pillows, lip ice, toothpicks, as well as a laser cut cake topper, a crown in the shape of the Eiffel Tower for the Birthday Girl, printed zoo cookies and Globe Name Badges for each guest attached to each Menu Pass. Bathroom signages were transformed into  "Chicken or Beef" picks, and needless to say – everyone had a magnificent time!