Year End Function 2010
The BEST party I have ever been to: our year end function – co-ordinated and Styled by Karla Oettler from Absolute Weddings and Events, in collaboration with Molentvliet Wine Estate in Stellenbosch- what a massively cool event!
Driving down the Helshoogte pass, the excitement grew as we entered the gate, where we were given cute brooches with our names and companies, by Nancy from Creatus Designs, who designed the entire event's stationery.
Walking down the long stretch of road leading down the valley into the vineyards, we were first greeted by lime & litchi crushers to cool down ( initiative of Absolute Delish), along with sparkly silver Christmas hats and angels' halo's, tagged with "Merry Welcome" notes, naming all the sponsors for the event. Just a little further down the road, another stall with white popcorn boxes printed in silver as snacks to munch on while enjoying the walk- which, by the way, was lined with crisp white polystyrene snowflake cutouts ( Area 51)-all in around the trees! Large white letters greeted us announcing " CELEBRATE!" – which set the tone for the rest of the evening…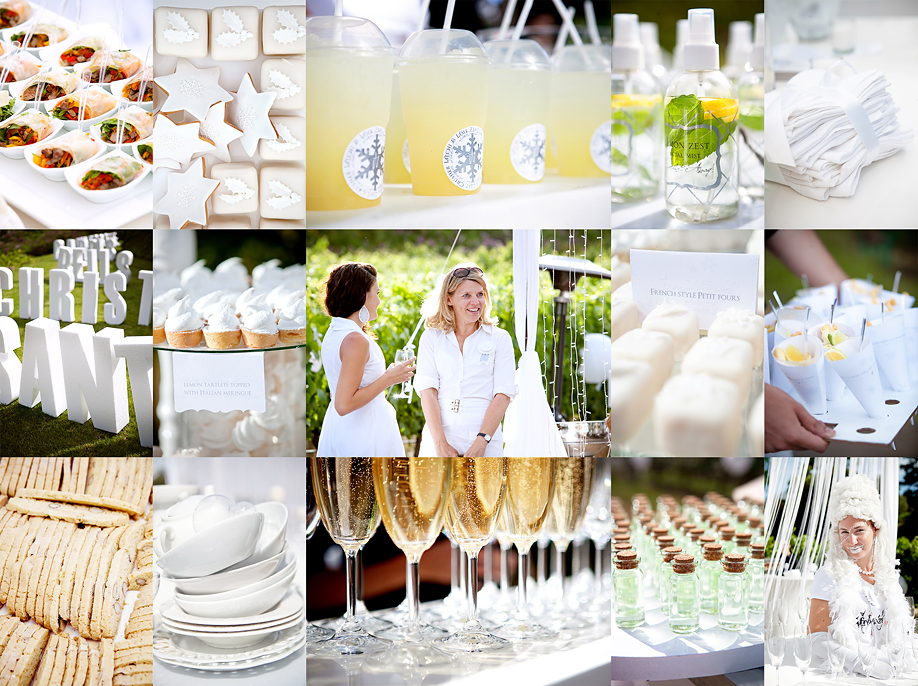 As the Tallest Man on Earth greeted us, (just whilst thinking that I REALLY was entering some kind of fantastic surrealist dream), he introduced himself as part of Afrodizzy Acts, who entertained the guests right through the night. His friend was dressed as a Victorian goddess with a table-like dress, balancing glasses of icy champagne, thanks to Graham Beck!
As we chatted away, we amused ourselves at the installation pieces upon entering the White Dream (all under free form tents by Nomadik Tents)- stilts with Iced towels from 'Le Towel' to clean your hands, Fresh minty-lemon mists in spray cans, white paper fans, and beautiful decor-including white pumpkins!Well done to marcel for his decor and floral installations. A Mountain of presents awaited us too- we had to bring white gifts in order to swop with another guest- I, of course, dropped off my prezzies and neglected to pick up a substitute- obviously too preoccupied by all the glamour.
Molenvliet Wines were flowing as the guys and girls from Saffron Events attended to every whim, where all I had to do was sit down (regal rentals) on and listen to great music – Zamar, Incognito, and Rene the Dj lit up the evening, and  along with gorgeous lighting by 'Something Different', it could only be a recipe for fun.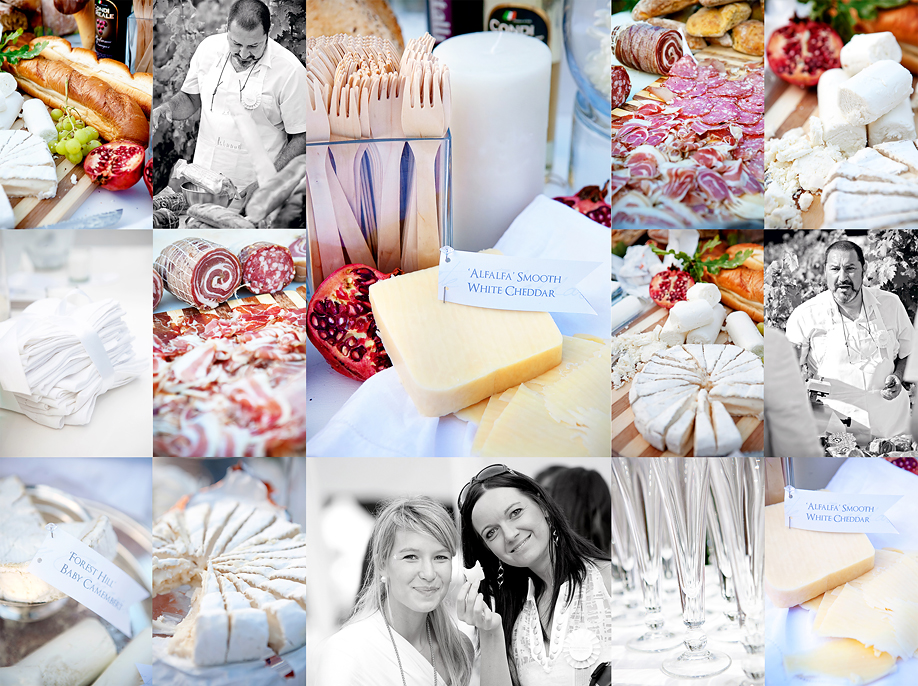 I DID get stuck at the Artisan Charcuterie table, where the Black Pig served Focaccias and Bruschetta's with his Salami and Pancetta, demonstrating a bit of food and wine pairing with his hand-cured meats. Amazing cheeses were also served by Caterix, so I had my fair share of snacks, but that did not stop me from indulging in the mini Salmon and Creme fresh Crepes  and Creamy Chicken Wraps on sticks-all by Dish Food & Social, whilst being entertained by HOT flaming tricks by the 'Shaker Events' Cocktail Bar !
The Videographer from idodigital camera'd away at me with my chipmunk cheeks full of sweets ( hello- who can resist anything made by Wade from Cakes by Wade?), which was served at the most delectable Candy Bar. Kanya hunt's Cakes were just too good looking to destruct, it made for beautiful decor though!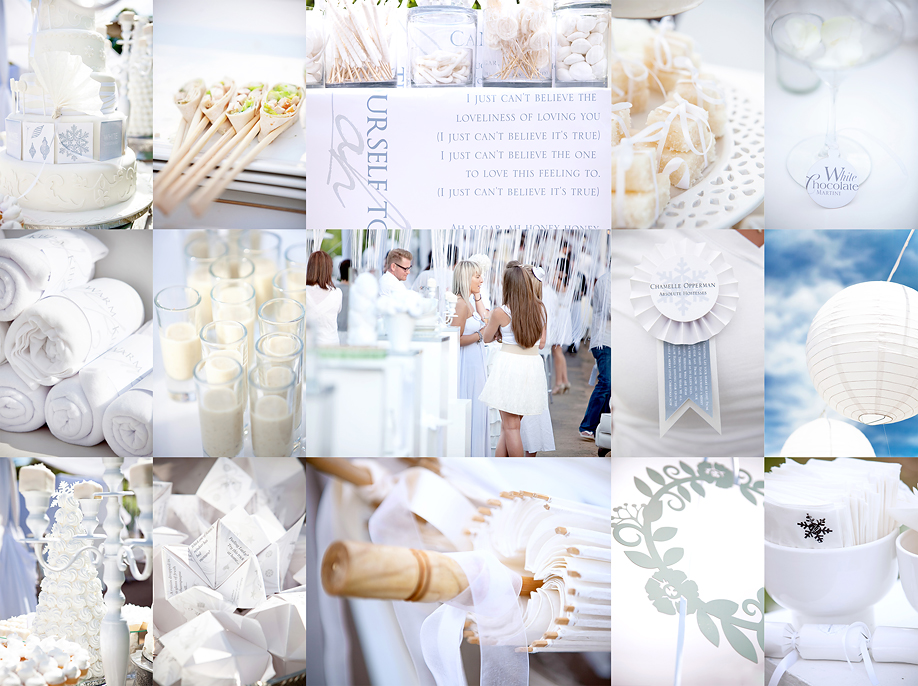 Luckily I was distracted by Robert's Photobooth-yay!-who is an all-time favourite at any event. I loved getting dressed up in his hilarious props- what a treat. By now I needed a dose of second breath, so I made a bee-line for the Coffee Bar, where a shot of Double Espresso convinced me to start dancing to the Dj…UNTIL I SAW THE OYSTER MAN! I must have followed him around the whole evening- dressed in a thick leather suit and two buckets of Saldanah Oysters on ice: he shucks them for you right on the spot! Exclusive Hire made sure there was enough Champagne coolers and Cutlery to go around- I have used them for an event before- so professional!
Other than loving the evening, I met some very nice people in the industry, like Talita and Candice from "Le Look" Makeup,  and Lana from "Hireworx".
Thank you to JaniB Photography and Zara Zoo for capturing all the moments…I left my camera at home on purpose!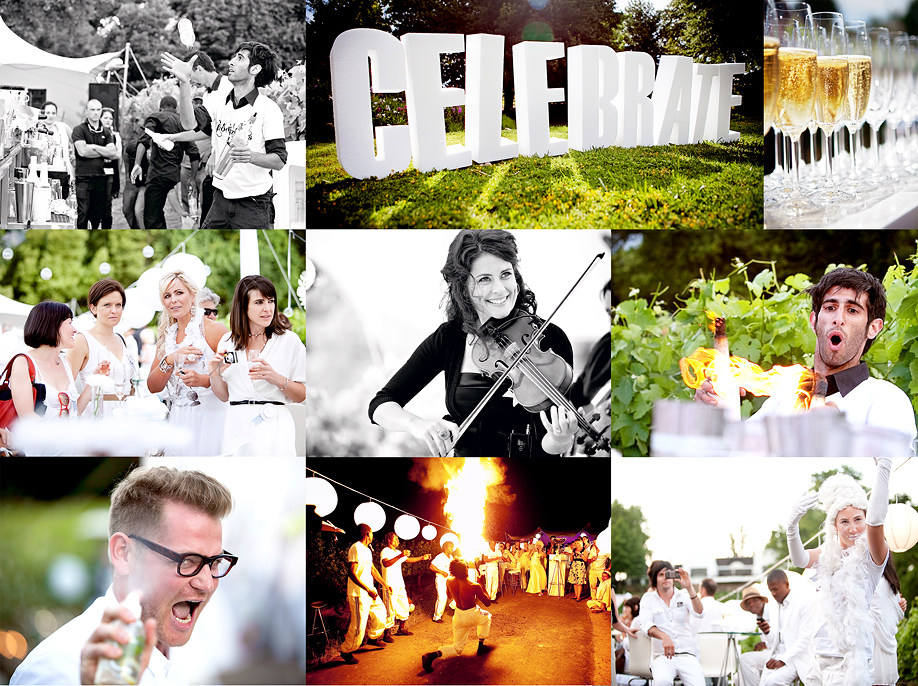 Toast's contribution to the evening was a glass Jar with snowflake-like Fortune Tellers- the kind we used to play with when we were kids…just to say- Season's Greetings to everyone in the Industry! I can only look forward to a super- exciting 2011 with you all!
P.s – I only opened my "Merry Aid Kit" Cracker the next morning, only to be surprised by a couple of compral's, a plaster, some gum, and a tissue! Smile…