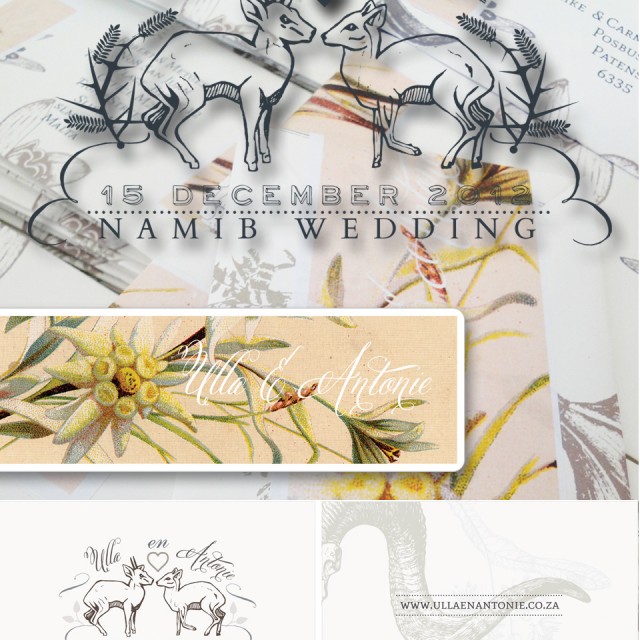 Ulla & Antonie's Wedding Invitation! We are very excited to create the additional stationery for this stunning Namibian Wedding! The monogram was hand-illustrated with a sticker wrap for the custom-designed postcard envelope, which had a slight metallic shimmer.The card is a duck-egg blue indicating a link to the website with the information to this wedding.
One of our favourite colour combinations!Patterns are custom illustrated and subtle details such as the bradlets inside add glamour.
As featured in Wedding Inspirations 2012 Autumn Publication, this Folded Pouch is our take on a vintage wedding invitation. The double sided folded vellum pouch can hold several inserts, which we tied with a paper detail and bradlet. We illustrated a bold pattern & used decorative fonts. A round window in the pouch allows one [...]
Our Studio created this invitation as a booklet for a CD insert. It has a Fold-open concertina functionality, and reads like a little story about the bride and groom. We created cute icons, and illustrated vintage images that we re-created from old posters and soap-boxes.We used unconventional bright colours, as well as unique fonts to [...]
This wedding invitation was created for Carryn & Dave who are great friends of mine! Carryn has a larger than life personality – and her invitation reflects her radiant company. We designed a beautiful, one-of-a-kind custom Die-Cut Pouch that resembles a cloud, and stuck  small lasercut birds with diamante eyes onto the insert. All designs [...]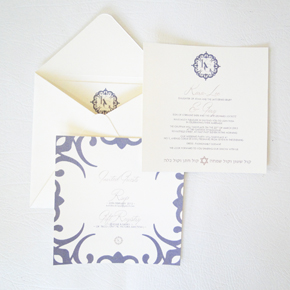 Kara-Lee & Gary's Wedding Invitation is a Luxurious Canvas paper with a slate print. The Monogram was custom designed and translated on the rest of the stationery!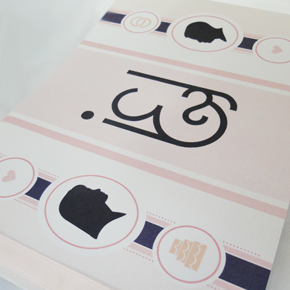 Inga & Jason Approached us to design their Wedding Invitation as well as additional stationery for their Wedding- We created a customized monogram using their initials, as well as cameo illustrations of their silhouettes. The Colours were Navy and Pink with Creams and Nudes, Using Modern Fonts and Vellum Papers. Menus were to be hung [...]