As featured in Wedding Inspirations 2012 Autumn Publication, this Folded Pouch is our take on a vintage wedding invitation. The double sided folded vellum pouch can hold several inserts, which we tied with a paper detail and bradlet. We illustrated a bold pattern & used decorative fonts. A round window in the pouch allows one to add a monogram on the inserts which can then be seen once the pouch is closed.
We recently designed the Corporate Identity for Dorpstreet Deli in Stellenbosch. Piet Marais ( previous chef for The Aleit group's Stir Foods) and Louise Veldhuizen  (Owner of Mila the Cakeshop), recently joined hands and culinary skills to open the Deli in the picturesque Avenue. Toast created the logo, outdoor sigange, designed the wooden engraved signages for the entrance, a lasercut signage for the Black Board, all of which translated to business cards, Menus, Embroidered aprons and Food tags. Finally we created die-cut Paper wraps for the take-away packages, with a black self-inking stamp to finish off the look.  We are proud to have been involved in this venture! The food is out of this world, the vibe is great, so please take a look at their facebook page for updates on the Daily changing menu!
http://www.facebook.com/DorpstrDeli

Our Studio created this invitation as a booklet for a CD insert. It has a Fold-open concertina functionality, and reads like a little story about the bride and groom. We created cute icons, and illustrated vintage images that we re-created from old posters and soap-boxes.We used unconventional bright colours, as well as unique fonts to create something COMPLETELY different to what we see in the industry today. We predict that our CD Pouches will become a future trend – seeing that it doubles up as a great gift for guests: Use your CD to give your favourite songs, or make a photo collage to even include your engagement shoot.

Claudia & Wilhelm's wedding at Molenvliet was a modern Black & White Wedding for which we designed Laser cut Table Names that simulated local destinations that the couple had traveled to. Attached to the wording were photos of them! These were suspended from the Black Lampshades. We created Magnet buttons as nametags, which guests could take home as gifts. Vinyl Stickers for Signages, Black & White customized Cake Boxes, and Bling thank-you -tags (which were attached to Black & White Balloons which the guests released in the Vinyards) added to the look. The Save-the Date had rotating photos of the couple, where the Wedding invitation had been a Layered invitation in their 3 respective colours, containing a love quote, a illustrated map and the wedding information. The Invitation was tied to a bottle of fine wine, which was produced by the Bride's Father! These were of course hand-delivered.


We recently attended a shoot with Absolute Collection,Vivid Blue and Wades Cakes at De Huguenot Estate in Stellenbosch. I just LOVE this Venue, that's all. The look, the views, the simplicity, it's just made my list of favourites -  'nuff said – have a look at the website for more information – http://www.dehuguenot.co.za/ .

Leigh-Anne & Christopher's wedding has been one of the favourites at our studio! This lovely couple had such fun with their themed wedding and it created a fantastic festive ambiance.
Our designs for this wedding included a Digital Save-the-date with an online RSVP form whereby guests could update their dietary requirements and view accommodation options.  The wedding invitation simulated a travel ticket, with a tear-off functionality and a Custom illustrated map.
This couple had travelled extensively and we incorporated this idea into the seating plan. We used the abbreviations of the airports that they had traveled through, as the table numbers, which we indicated by silk-screening them onto lampshades, which were suspended over the tables (Credit to Something Different Lighting). Table seating tags indicated the "destination" which related to the hanging table number.
Menu's were folded cards which were placed in double sided custom envelopes, addresses to each guest. These contained a thank-you note and had a beautiful ribbon detail.
For the additional stationery we created paper confetti cones with a map of the London Underground, "Wish you were here" postcards which guests could fill in and "post" in the inbox section of an open vintage suitcase. We created white laser cut signages stating " Enjoy the Journey", Coffee Bars, etc.
The order of ceremony translated into a travel passport, which had gorgeous vintage map details printed inside.
The candy bar Had a mini airplane with hanging canvas signage indicating it being the dessert table. Zoo cookies had printed icing with our artwork. Even the wedding cake (Wades Cakes) contained some of our artwork. The silver mirror cake topper which had Chris and Leigh-Annes Initials, but "CL" also doubles up as the abbreviation for number plates for Stellenbosch, where the couple had been married (Molenvliet Wine Estate). Floral designs by Okasie, Co-ordinated by Absolute Collection.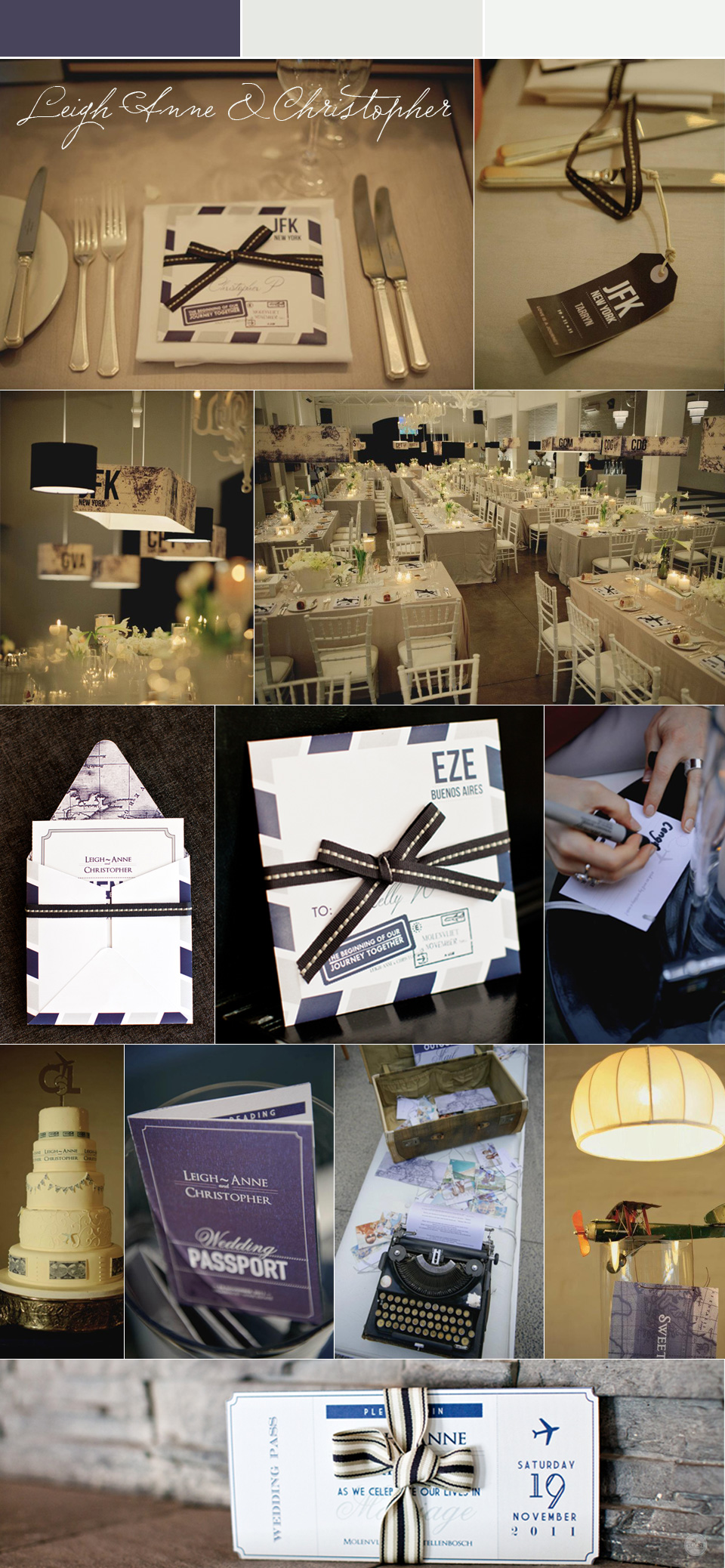 This wedding invitation was created for Carryn & Dave who are great friends of mine! Carryn has a larger than life personality – and her invitation reflects her radiant company.
We designed a beautiful, one-of-a-kind custom Die-Cut Pouch that resembles a cloud, and stuck  small lasercut birds with diamante eyes onto the insert.
All designs were custom illustrated. For her Kitchen tea, we design vouchers with a tear-off functionality, where the tickets were used to participate in a lucky draw.  This was a great idea in that everyone participated, and it proved to be a simple substitute to bringing gifts. The Save- the Date was a digital email responder.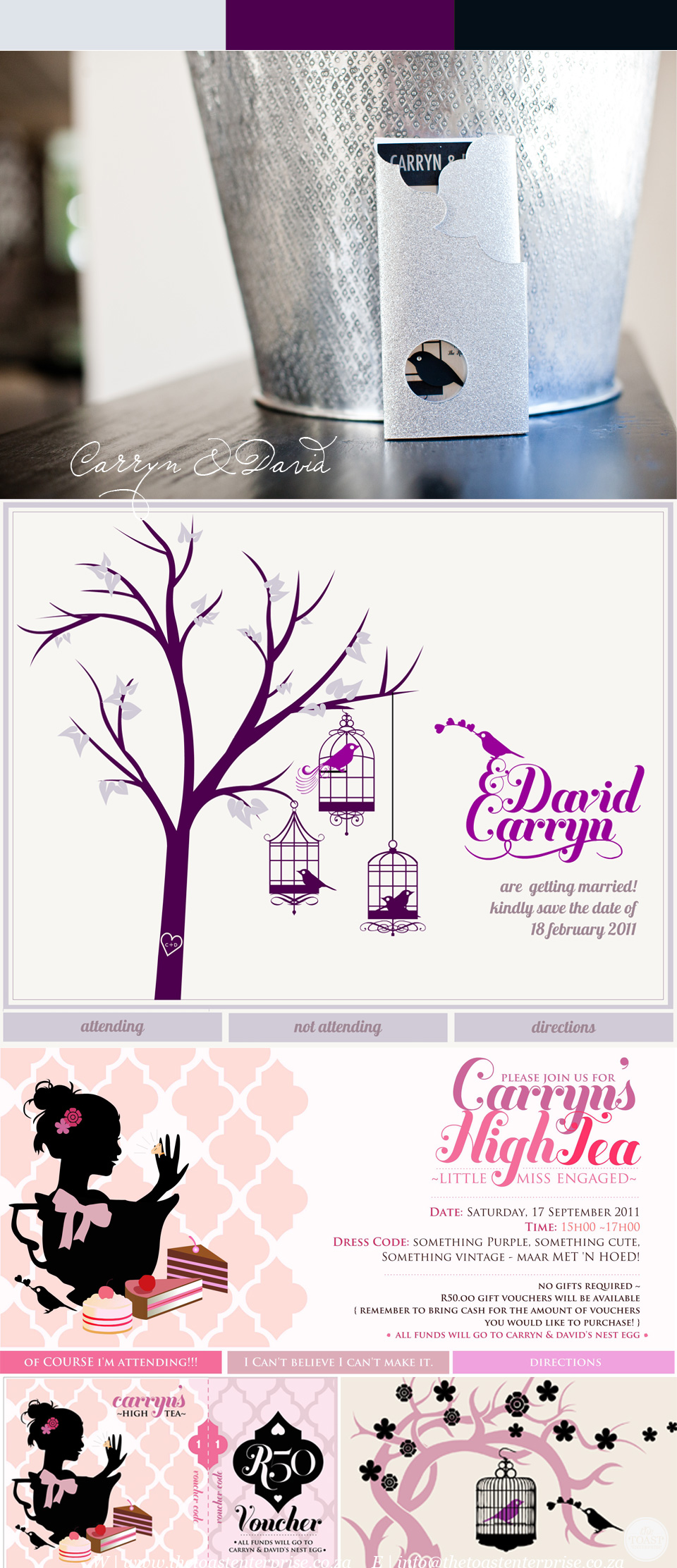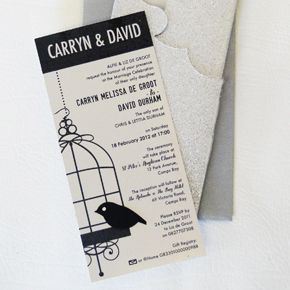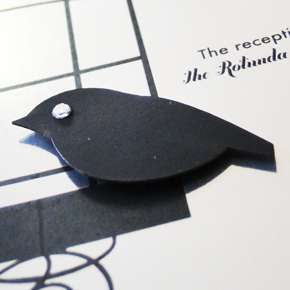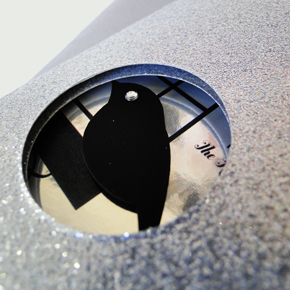 Kara-Lee & Gary's Wedding Invitation is a Luxurious Canvas paper with a slate print. The Monogram was custom designed and translated on the rest of the stationery!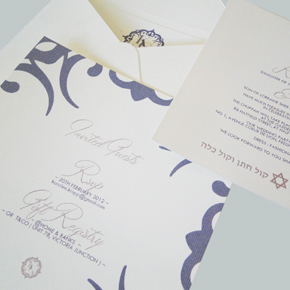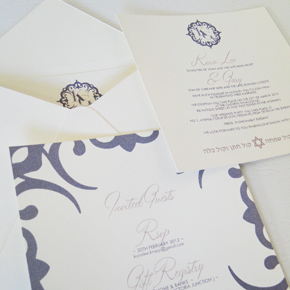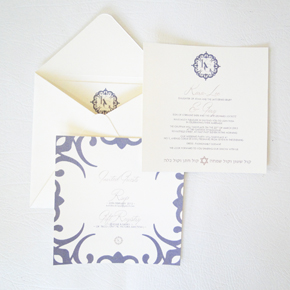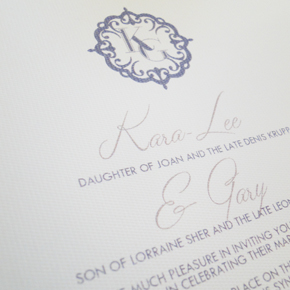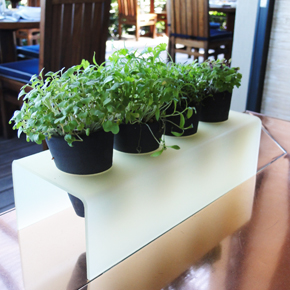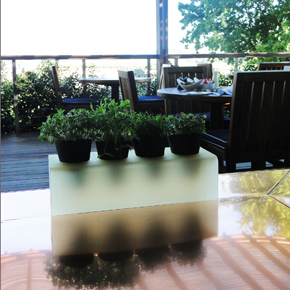 Toast was approached by Jaco Stofberg from "LeafLab" to work on an assignment for Delaire Graff Wine Estate. Jaco's company specializes in micro~greens, -where LeafLab regularly supplies Delaire with the mini shoots. Delaire wanted these micro-greens readily displayed at the diner's table, in order for guests to become more familiar with these trendy greens, whilst waiters cut the greens into salads, therefore ensuring an interactive unique experience. After meeting with The Head Chef, Jonathan, we pitched a concept to the company : a Perspex Stand in the colour of the flowers normally displayed in this space, with a mixture of organic black baked clay to contrast with the eclectic mix of textures already evident in the restaurant. The results were great and we are proud to have been involved in this INVENTION! Visit Delaire for the experience.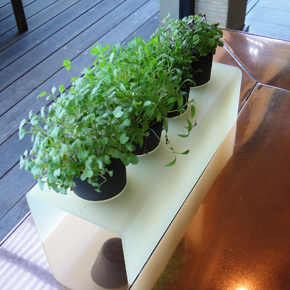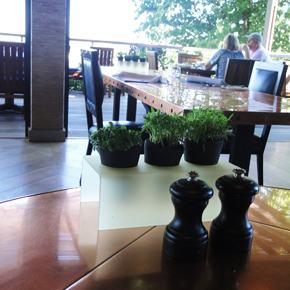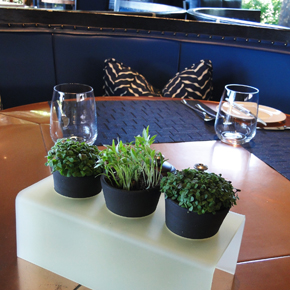 Absolute Collection in Collaboration with Molenvliet Wine & Guest Estate  hosted a spectacular event on the
7th of December 2011 – The Annual Year-End-Function for the Wedding & Event, Wine, Corporate and Hospitality Industry of the Western Cape. It was a bright interpretation of what we predict trends will be for the year of 2012!
300 Fortunate guests were invited to this  extraordinary celebration in the vineyards at the renowned Molenvliet Wine & Guest Estate with a vibrant affair celebrating "A Life in Colour"  This event showcased amazing new service providers, extremely talented individuals and organizations within various industries.
Photographers & Media was present as they captured this extravagant event , and Toast was asked to create the Look & Stationery.
Our Designs included a Logo, Mini Presentation Boxes with a small CD and a powerpoint presentation with an introduction to the events' sponsors, concept and floor plan, 300 Customised Guest Name Tags, Printed Flags for entry at the venue,water Bottle Stickers, Stickers for Cocktail glasses, Bar Signage, Triangle Boxes with Tea Bags, a Digital Invitation, save- the -date, party tickets, etc.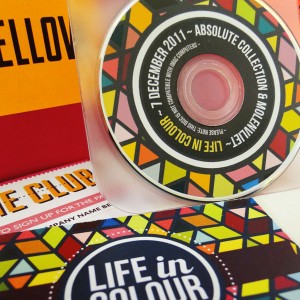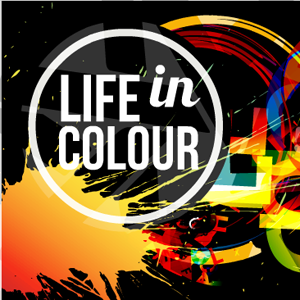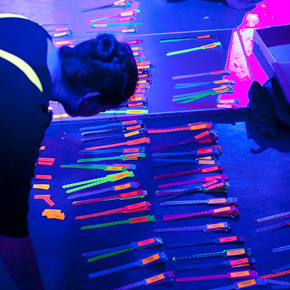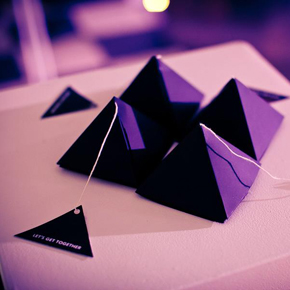 Inga & Jason Approached us to design their Wedding Invitation as well as additional stationery for their Wedding-
We created a customized monogram using their initials, as well as cameo illustrations of their silhouettes. The Colours were Navy and Pink with Creams and Nudes,
Using Modern Fonts and Vellum Papers. Menus were to be hung on Tiffany chairs and Doubled up as the Table Seating Plan!
We also Designed a Cake-Topper with their Cameos.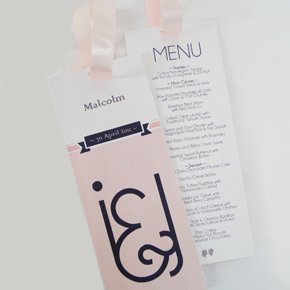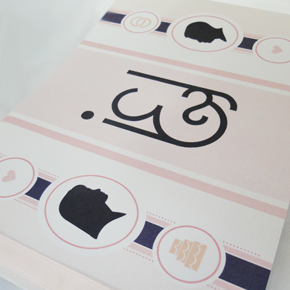 Karla Oettler from Absolute Collection approached us to design all of the stationery for her Birthday on the 8th of October 2012 -The weekend event was held at De Wetshof Estate in Robertson, and guests booked their accommodation months in advance!
Our designs included a Digital save the Date that emulated a Visa, after which a digital  Travel Pass was sent out after guests replied to the Save the Date, of which guests were divided into several countries, thereby receiving a different country pass. Each guest would have to dress up as their respective country.We built a website with information for guests about what to expect, what to bring with for the weekend, an online form for guests to fill in about how they had met her, and an online gallery of this co-coordinator' s past parties.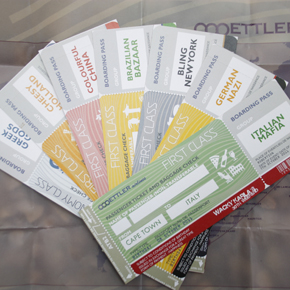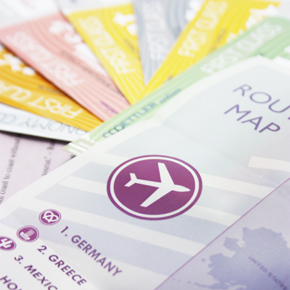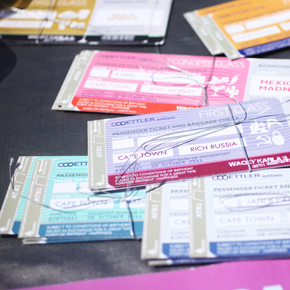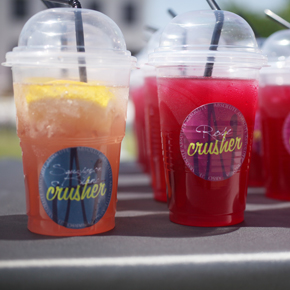 We designed a "Wacky Karla's Birthday Weekend" Logo, which we engraved on Wine glasses. These glasses contained an attached Menu Passport Pass, which had tear-off Food coupons, which was presented to guests on arrival – along with Mojito and Berry Iced Crushers for which we designed waterproof stickers. This Menu also contained a route flight plan to each station, as well as a welcome note translated in different languages. Each guest also received their tear-off travel ticket.The first station at arrival – The German Station, which had containers and signages indicating Beer and Sausages to start off with!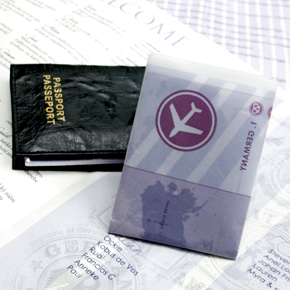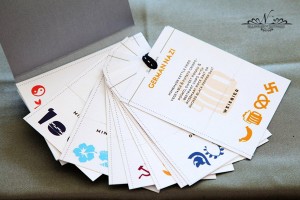 The Event was thus constructed by dividing the floor plan into different countries, an MC announcing the time of arrival at each country ( as one would experience at an airline terminal), and as guests move around to each country, they would be presented with different snack & drinks pertinent to that culture. This was indicated on the Menu passes with different icons, as well as what to expect at each stop.
Furthermore, Each station contained stickers on shot glasses, flags indicating the name of the snack, stickers on Noodle boxes & wonton cookies, tags with ribbons, Sheets for platters with design details, customized paper cones, printed tissue paper wraps, pizza box stickers – everything had a customized label!
We also designed custom Travel Safety Cards :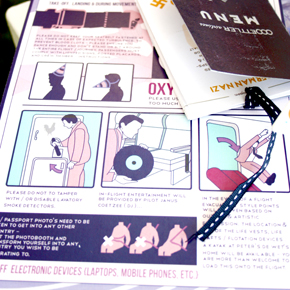 Other treats included Photoshopped magazine covers with imposed guest's faces – for our in-flight magazine entertainment. Mini plastic airplanes were customized for the cake & candy bar, signage was created for bags of "airline good" such as sleeping socks & pillows, lip ice, toothpicks, as well as a laser cut cake topper, a crown in the shape of the Eiffel Tower for the Birthday Girl, printed zoo cookies and Globe Name Badges for each guest attached to each Menu Pass. Bathroom signages were transformed into  "Chicken or Beef" picks, and needless to say – everyone had a magnificent time!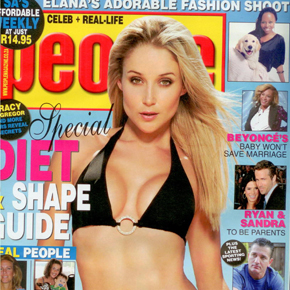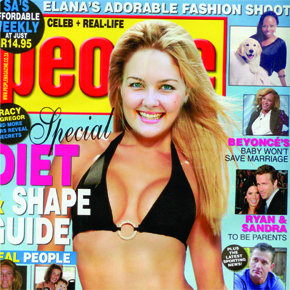 Toast was asked to create a look for Kleinevalleij Estate's Restaurant's Launch – Festa. Modern fonts were used and rich red and black colours, and designs included pizza-box stickers, hanging banners & signages, lasercut props, stickers for a large variety of crushers & candyfloss, Candybar tags, photobooth props, guest name tags etc.  Loved every moment of designing this special look and the photos turned out great.
We also designed the Digital Save the Date, as well as the Invitation and Map & Directions :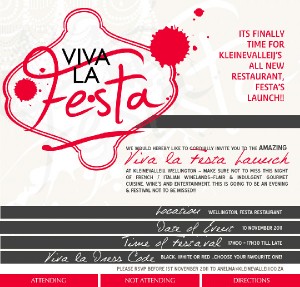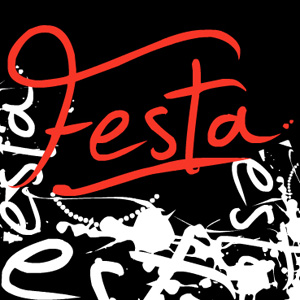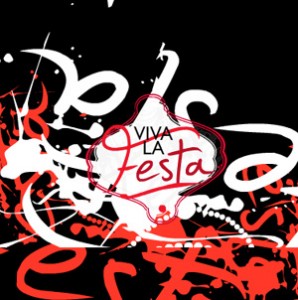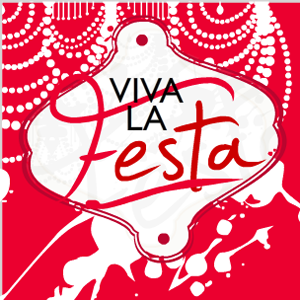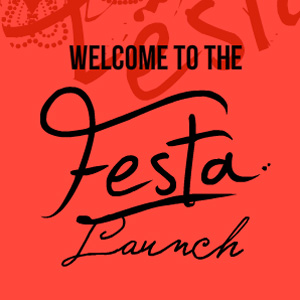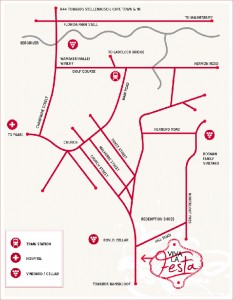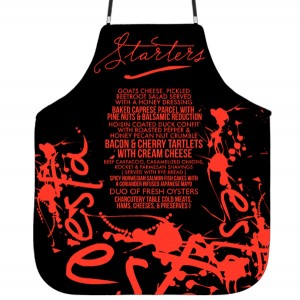 PRESS RELEASE – March 2011
The Toast Enterprise recently collaborated with The GELIEFT Bridal Couture brand (Teresa Joubert and Stephen van Eeden) to celebrate their first annual BIRTHDAY Shoot. The basic idea was to create a day where brides could wear their wedding gowns for ONE MORE DAY, our aim being that it would form part of Geliefts' brand Development…The photo's could then be used  for Media and marketing purposes, as well as offer the brides a fun day where they could be inspired and show off their unique style one more time.
We were approached by Gelieft with the concept, and of course we had to say "YES!" to the great opportunity. Toast and Gelieft have collaborated in the past, where we designed and developed the distinctive corporate Identity for GELIEFT-Bruid & Prêt-a-Porter. The positive response from both our clients towards the brand identity preempted that a future collaboration would be inevitable!
Gelieft envisioned the shoot to be a 'celebration of womanliness in the ambiance of a beautifully styled setting' Their inspiration derived from the concept of a 'Muse'- the epitome of lady-like glamour with contemporary exquisiteness; she is confident, determined and sensually demure. The Toast Enterprise, then hand-selected all the necessary service providers for the shoot…
Gelieft invited 20 of their previous clients / brides to accompany their bespoke gowns and partake in this extraordinary day,as it would be the ultimate annual event for their past/previous brides to wear their beautiful wedding gowns again.
15 Brides and 3 Models were all effortlessly styled by freelance stylist Jane Kotze and 5 dedicated Hair and Make-up Artists.  Stills were photographed by 2 notorious photographers, Jan Ras and Guido Schwarz, and the detail of the day meticulously video-documented by Theunis Stofberg.
Floral Décor was created by "All Occasions at no.99″,  where furniture and Props were supplied by Detail Interior Design.  All confectionery delights were supplied by Louise Veldhuizen owner of Mila – The Cakeshop.
Event Management, Concept Development and Stationery: Marcelle Smith, The Toast Enterprise
Fashion and Creative Direction: Teresa Joubert and Stephen van Eeden, GELIEFT – Bruid & Prêt-a-Porter                                                           
Videography: Theunis Stofberg
Photography: Jan Ras & Guido Schwarz
Models: Marilet Kruger, Lucea van Huysteen, Ivanette Britz, Estelle Wasserfall, Carolise van Huysteen, Johannita Eksteen, Lize Marais, Carlien Coetzee, Michelle Louw, Jacolize de Villiers, Anneli Peters, Lauren Schoeman, Sanette Boer, Rina-Marie van Velden, Marlé Baard, Lauren Marais
Hair and Make-up: Jane Jessica Field, Nicola Loots, Melony Erwee, Shani Wehl, Anna Pepper
Venue: Eben-Haëzer
Floral Displays: All Occasions at no.99
Cakes and Confectionery: Mila, The Cakeshop
Lighting & Décor: Eurolux, Detail Interior Design, glassware by Mr. Price
Fashion Stylist: Jane Kotze
Jewelry and Accessories: Kim Boezaart, Jade Jewellers, Zuyda van Dyk (WOW), Lily Blue by Anina le Roux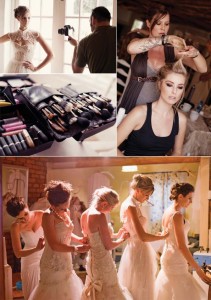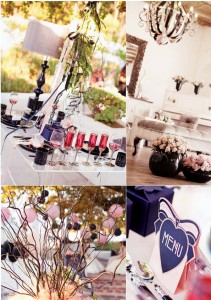 This week we have been working on the Eben-Haezer Estate's Corporate Identity. This historic estate dates back to 1837, which has been
lovingly restored into an elegant and luxurious B&B.
The Venue is unique and Romantic with it's cape dutch
architecture and proud oak trees.
The Views are breathtaking, overlooking several Fountains
and the picturesque Paarl Mountains, and a vintage Bell announces the arrival of the bride,
which is Eben-Haëzer's Trade mark – De Ridder Burcht's Bell Tower!
We drove out to the Succulent Export Estate, Where Louise, the Dutch Hostess, greeted us with seriously tasty authentic Dutch pancakes…The shoot was great and the detail in all the decor is astonishing. We are in the process of marketing the venue as a great option to host a wedding.
We have been working on the "Absolute Collection" campaign, diversifying the brand, creating Email Banners, Notepads, Facebook profiles, Websites, and other printed goods like Mousepads!
Toast has also been signed as the design & stationery consultant for " Absolute Consulting".
Everyone wants a cool business card ~ who doesn't!Business Card were originally used in the 15th Century in China to announce one's arrival to the hostess.
No self respecting lady or gentlemen was ever with out a visiting/ business card as these were an indispensable attribute of etiquette and testament to sophistication.
Today, we can design business cards that range from  fanciful – decorative, playful and professional, to functional- containing illustrated maps and contact details. Business cards are still popular marketing tools, directing prospective clients to your website, your premises, or your contact details.
Toast can design and print fashionable cards on a multitude of fine papers…